Provide Business info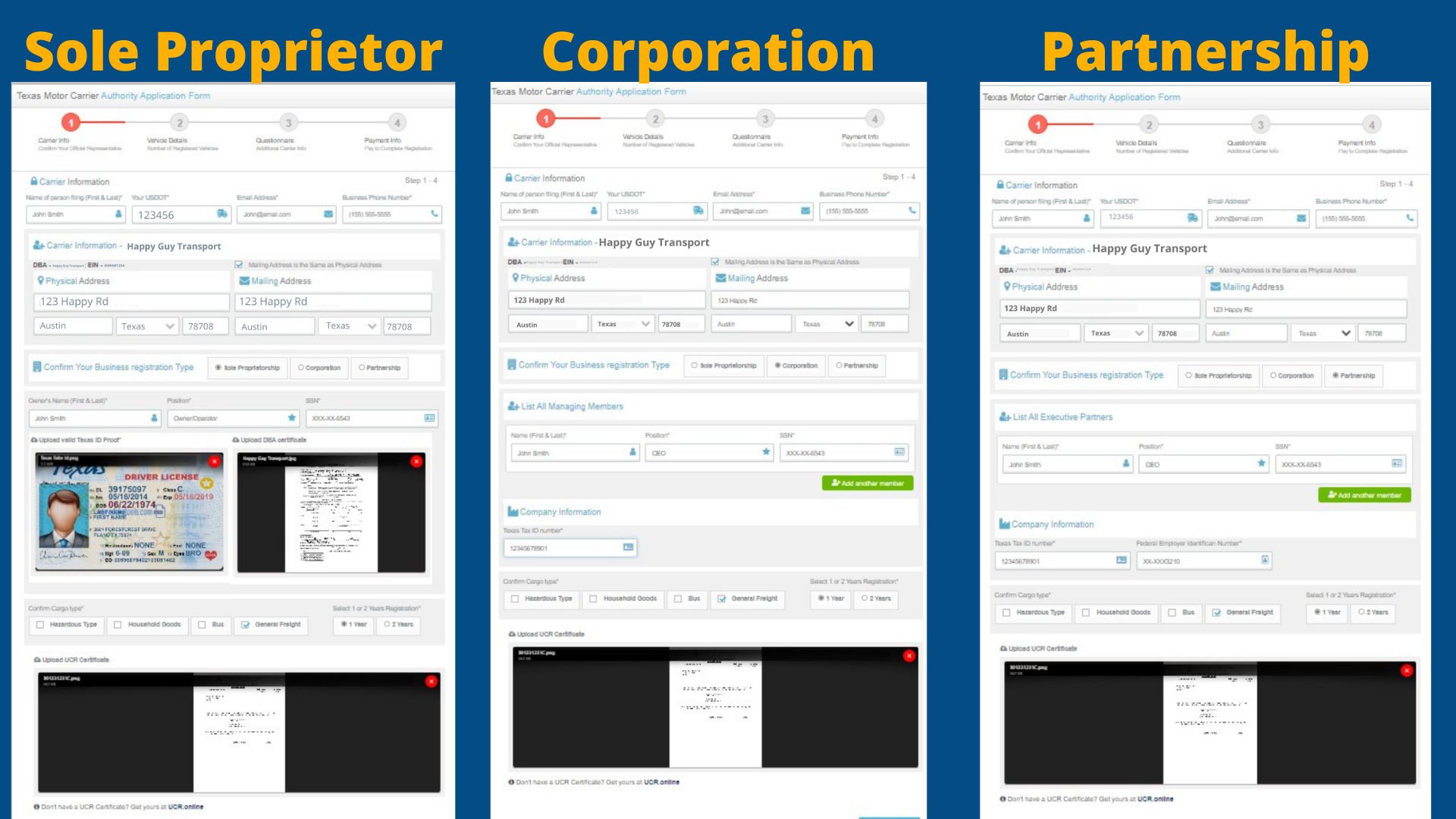 Welcome to DOT Number Texas for all your TxDOT and TxDMV number needs. Getting your TxDOT number has never been easier. It doesn't matter if you're an owner-operator of one vehicle or you oversee a fleet of hundreds, we have you covered. Just start right here on the HOME PAGE form titled GET TX Motor Carrier Operating Authority. Once you enter your basic information, including your USDOT number, pick if your business is a Sole Proprietor, Corporation, or Partnership. Each type of business requires slightly different information. If you're a sole proprietor, just fill out the name of the registered owner and upload a copy of valid Texas issued identification. Acceptable forms of ID include driver's licenses, passports, US military IDs, or government IDs that include a photo, unique ID number, and expiration date. 
For corporations and partnerships, submit the information for all managing members. TxDOT also needs your Texas Tax ID number and/or your Federal Employer Identification Number. All companies must also include your DBA certificate and your UCR certificate. You must obtain your UCR and DBA before you apply for your TxDOT number. 
Submit Vehicles and Questionnaires
Once you submit your business information, TxDOT also needs your vehicle information. Using our smart forms, you can upload one or one thousand vehicles. Just input a valid VIN and verify the year, make, and model. The unit number is the vehicle number of your fleet. Add your vehicle and make sure every vehicle in your fleet is listed. Once you add all of your vehicles, please fill out the questionaire.
The questions listed are required for TxDOT to better understand the nature of your business. For any "yes" answers, you must include more details in the space provided. Additionally, your application will be denied if your business does not drug test or if your business does not have insurance coverage. You must note if you do your company drug tests in-house or if you use a third-party vendor to distribute your drug tests. For your insurance validation, TxDOT needs to know your updated insurance information. 
Once you include your vehicles and fill out the questionnaire, you're almost done. 
Pay and Approve
The last step is to pay with a valid credit or debit card. Verify that the vehicle total on the right hand side of the form is correct. The final cost depends on the total number of vehicles. If this number does not match up with your fleet, you may be subject to penalties and fines. Congratulations! You have successfully applied for your TxDOT number, also known as the TxDMV number. Your application will pass through our team of permit pros who will verify your information. We will contact you if there are any problems. Otherwise, your application will be passed through Texas authorities for approval. This approval process can take 24–48 business hours. 
Once approved, a member of our team will reach out to you directly with a TxDOT issued VOID number. You must submit this VOID number to your insurance company. At that point, your insurance company will submit that to the DMV. The Texas DMV requires that your insurance company submit that directly to them. Once the DMV has your VOID number from your insurance company, your application is pending final approval. Final approval can take an additional 7 business days from the day the DMV receives your VOID number. Once approved, we will send you digital proof of your certification and cab card. 
Congratualations You just got your TxDOT number. You can print these and keep them in your vehicle, or keep a copy on your phone for easy access. If you have any questions during the process, our team of permit pros will be with you every step of the way.